About Us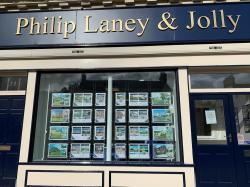 Philip Laney & Jolly originated in Malvern in 1966 and over the years we have developed into one of Worcestershire's leading independent estate agents, lettings agents, and property managers.
Our excellent local knowledge is coupled the best that the internet can provide. For example, we use www.Rightmove.co.uk, which is the largest property portal in the UK, to advertise our properties.
Our staff are fully trained, exceptionably knowledgeable, and professional.
We employ members of the National Association of Estate Agents, the Association of Residential Estate Agents, the Association of Residential Letting Agents and the Institute of Chartered Accountants in England and Wales.
Philip Laney & Jolly are delighted to have been chosen by The Guild of Property Professionals as its sole representative in Great Malvern. The Guild is a nationwide network of over 780 high-calibre estate agents giving access to the widest pool of buyers right across the country. We also have access to the prestigious show rooms on London's Park Lane, to display our properties.
This website is controlled by Philip Laney & Jolly for Philip Laney & Jolly Limited, a company incorporated in England and Wales under company
registration number 9457981

Registered Office Address:
23 Worcester Road
Great Malvern
Worcestershire
WR14 4QY